Graphic Design & Fine Arts

Welcome to rriverrun studio. We are committed to producing quality work in a timely manner, offering graphic and web design services. We have been in operation for over 15 years and always give our clients the best service possible, with quality and creative solutions to your print and/or web design needs. We are ready to discuss with you your business needs and the image you want to project, and then work to fulfill your goals.
We work hard to have a long-term relationship with our clients. At rriverrun studio we recognize that you are unique and need a unique solution.

What can rriverrun studio do for you?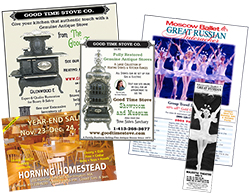 Graphic Design: Print is not yet dead. There is still need for booklets, catalogs, business cards, magazine ads and more. Our talented staff (me) will work with you to achieve the image you wish to project for your company or organization. Check our Graphics page.
Photoshop: Need to get artwork or photos web-ready? Or create a collage, repair a photo—or maybe just get the ex-spouse out of that group shot (just kidding)? We can help you.
Internet: If you need a website, a facebook page or just need to get some images web-ready we're here for you. Check our links.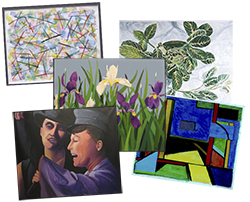 Paintings, drawings, etc: We are also a fine art studio with art in various mediums, abstract or realistic, to add beauty to your office or home. Talk to us about portraits. Look at our Fine Arts page.
If you are a beginner wanting to learn about Photoshop, Indesign or Illustrator, I can help you get started.
Contact us at:
jmaruskin@rriverrunstudio.com
1-413-634-5320
68 Main St., Cummington, MA 01026