Kelly Gallagher
Filmmaker—Assistant Editor—Production Assistant
patchsproductions@gmail.com
cell-413-210-1124
236 Grove St. Northampton, MA 01060
Patch's Productions is an independent film organization seeking to tell the stories of people and situations that are often overlooked, under appreciated, or quietly unknown. We are interested in the good news of humanity within the struggle for justice and the work for peace and equality. Film is the medium of this century—full of the power to educate, raise awareness, move people and open hearts. It is our desire to remind all of us of the hope that exists in our day to day world; and to call us back to the importance of our relationship to one another, to the earth, and to the future.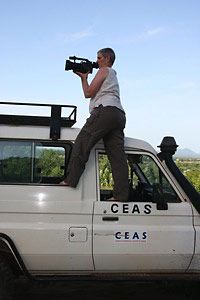 Filmmaker Bio: Kelly Gallagher has been creating independent videos and films since 2004. Her first endeavor, "What God is Doing in this Place," the story of a church and its process to become open and affirming for gay, lesbian, bisexual and transgendered people, was a project for a workshop at the Iona community in Scotland. She has since travelled to South Sudan, Kenya, and Haiti to film and document situations of the communities there. Kelly is an ordained United Church of Christ minister who now considers her ministry to be in film.
In addition to larger independent projects, she is currently producing a visual three-part study guide on progressive Christian thought and produces small pieces periodically for the Massachusetts state Conference.
Now seeking experience within the industry, Kelly is available as a Production Assistant, AssistantEditor, and has worked as script supervisor and second camera for small, independent productions.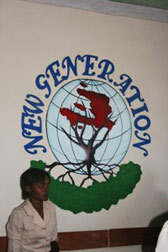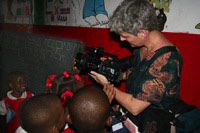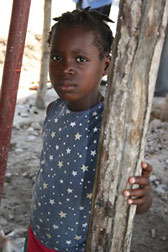 Projects in Process: CONASPEH—The Protestant Council of Churches, Haiti. This fundraising video presents the work of Revs. Patrick and Francoise Villier, the organization they formed and their relationship to churches in the United States. In Haiti the unemployment rate is over 80% and more than half the population lives on less than a dollar a day. CONASPEH has become a powerful voice for the poor in Haiti. Rev. Patrick works to empower the people and to encourage the government to serve all the people, wherever they are.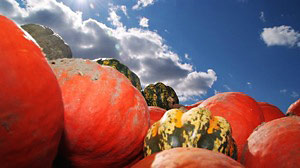 "Raising Roots at the Next Barn Over," working title. As the beloved pioneering CSA closes its doors in the Pioneer Valley, Ray Young and Tory Fields, two young organic farmers, attempt to fill the gap not only in food, but also in community. This film will follow the story of this endeavor, its ups, downs and sideways in the first year of "The Next Barn Over."